"Mouth and Body Immunity Toothpaste"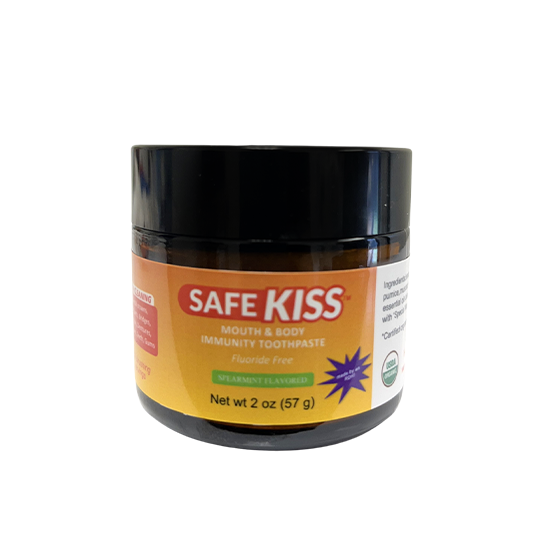 Benefits To Using Daily
Who loves using SafeKiss™ at home?
Great way to take your professional dental hygiene visits home with you. How many times after a professional Dental Hygiene cleaning 2 weeks later your teeth "feel" dirty again. Why not have access to a SafeKiss™ for Home and have daily "dental hygiene" cleanings. Be able to "brush" that stain away and floss off that sandpaper feeling off your teeth you feel with your tongue.
Keeping your teeth healthy is important to your overall well-being...
And…..keeping your family safe from harmful bacteria and viruses is important too for long-term wellness. Using
SafeKiss™
daily helps to create "safer" mouth environments for all families exchanging lots of hugs and kisses. Now isn't that an awesome reassurance, especially during the Covid 19 pandemic?
Why use SafeKiss™ for Home?
Helps to bring home your professional dental hygiene visits
How do I use this out of jar and place on my toothbrush?
Using a plastic knife remove a pea size amount to brush your teeth
What are the results after using SafeKiss™?
Lighter color teeth, and cleaner feeling teeth
Professional polishing teeth substance for all dental hygiene cleanings
Is SafeKiss™ gluten free?
Yes. Only contains all natural ingredients safe enough to swallow
What flavors is SafeKiss™ made in?
Spearmint with just bit of peppermint
Is SafeKiss™ safe for implants and cosmetic dentistry?
Yes very safe. In fact, highly reccommended for home use, because it helps to clean in hard to clean areas
How long does one jar last?
Usually 2 -3 months per one person due to the high concentration of ingredients and little size amount needed for each teeth brushing.
Many people have questions, that's okay because we have all the answers! We are revolutionizing the dental industry for holistic options and making this available for your family. Ask us anything as we are here to help!