Proganics™

For Professionals
Dental Hygienist using Proganics™ (All Natural Prophy Paste) notice helps to soften calculus for easier removal calculus. Our environmentally safe ingredients not only clean, but also help to mineralize teeth.

Alkalized ionic minerals and Calcium Carbonate supply vital nutrients to teeth that are required for effective re-mineralization. The white Bentonite Clay and Sea Salt regulate the pH of the mouth and neutralize damaging acidity.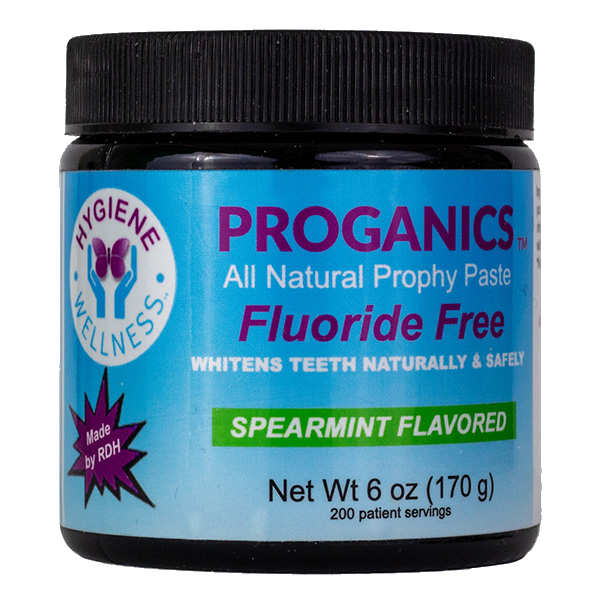 Benefits To Your Patients
Marketing Materials & SEO Boost
Any dental office that is utilizing our convenient auto-ship options is also given a listing on our website to help direct traffic to their facility as well as provide some marketing materials to help them stand out in their local community as Dentists with Flouride Free Options!
What are the benefits of Proganics™ "All Natural Prophy Paste" for Dentistry?
Patients teeth "feel" cleaner because of its natural cleansers
Should all "Holistic" dental offices use Proganics™ "All Natural Prophy Paste"?
Yes. Because it sends a message you are paying attention to even the small details in dental hygiene visits.
Why is it different than regular prophy paste?
The natural ingredients allow for cleansing and polishing all at the same time vs just polishing
How is Proganics™ "All Natural Prophy Paste" used as a "pre-cleanser" prior to dental hygiene cleanings?
Basically, apply with a prophy "brush" angle or regular toothbrush to a patients teeth prior to scaling
How many servings are in each jar?
There are 200 serving sizes per jar, but due to the concentration of ingredients less is needed to complete a full mouth polish.